Graffiti Notebooks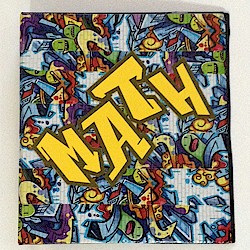 Go back to school with your own unique notebook created with colorful duct tape. We've supplied templates for Math, Science and English.
Supplies
Duct Tape
Cardstock
Clear Packing Tape
Scissors
Printer
Notebooks
Tacky Glue
Nail Polish Remover (optional)
Instructions
Select your duct tape and cover the outside of your notebook.
Click on printables and print out the the patterns on your cardstock. Cut out and glue to notebook. Cover the whole notebook with clear packing tape.
It's that easy to be a trendsetter.
Note: When cutting duct tape sometimes your scissors get sticky just swab it down with nail polish remover to clean off the gunk.
Patterns, Templates and Printables
Click on a pattern to open it in a new window