Gift Wrap Eggs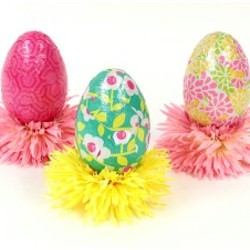 These beautiful eggs make great decorations or can be given as a gift to friends or family.
Supplies
Make It: Fun®: White FloraCraft Foam Eggs, 3 7/8″ x 5 7/8″, three
Make It: Fun®: White FloraCraft Foam Balls, 3″ diameter, two
Design It:® Foam Cutter
Three coordinating colors gift-wrap paper, approx. 8" x 20"
6 1/2″ diameter silk flowers: one yellow and two pink
Glue for Glitter adhesive (Design Master®)
Fine white glitter (Elmer's® Project Popperz™)
Multi-purpose glue (Elmer's® Glue-All®)
9″ paper trimmer (X-ACTO® tools)
12″ ruler
Small container (such as cereal bowl)
Tablespoon
Small cup of water
Old paintbrush
Old newspapers
Plastic bag
Glue gun and glue sticks

Instructions
Pull flower off stem. To fit egg into flower center, use Design It:® Foam Cutter to cut 1/4″ thick slice off large end of foam Egg. Check for fit and trim if necessary. Set flower aside. Repeat to trim other two Eggs.

Use scissors ruler or paper trimmer to cut 8" x 20" of one color gift wrap paper into 2″ wide strips, then cut each strip into 2″ squares to yield about forty squares. Repeat for other two gift wrap papers, keeping piles separate.

Cover work area with newspapers. In container, mix 2 tablespoons multi-purpose glue with one Tablespoon water and use paintbrush to stir. To decoupage, paint small area of egg with thinned glue and press one paper square onto glue. Then brush additional glue mixture over paper. Continue applying additional paper pieces, overlapping and alternating directions, until egg is completely covered. (Note: Allow paper to wrinkle as needed to conform to Egg shape, creating texture.) Set on plastic bag to dry. Repeat by decoupaging other two eggs, making more glue mixture as needed. Let completely dry.

Read Glue for Glitter instructions. In well-ventilated, newspaper-covered area, spray egg with Glue for Glitter. Sprinkle egg with white glitter, gently shaking off excess. Set aside to dry. Repeat to spray and glitter other eggs. If desired, top coat eggs with spray to assure adherence.

To create a base, use Foam Cutter to cut 3/4″ slice (to yield a 2″diameter circle) off STYROFOAM™ Ball. Repeat to cut another slice from other side of Ball and a third slice from the second Ball. Place one slice, flat side down on work surface. Press plastic base of one flower into top center of base and hot glue to hold. Then glue Egg to center of flower. Repeat to assemble other Eggs onto flowers and bases.
This craft reprinted courtesyof FloraCraft.

Contributor

FloraCraft
FloraCraft(r), locally owned and operated in Michigan, has beenserving the craft and floral industries for 65 continuous years, providing quality STYROFOAM(tm) Brand Foam in shapes and sheets.  We are dedicated to helping beginners and professionals achieve their best results, FloraCraft products are the foundation of every great project.