Ghoulish Pop Up Coffin Card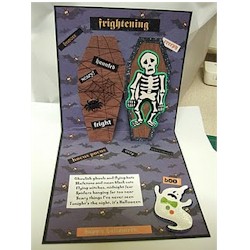 Halloween, ghouls, ghost and all thing scary are perfect for crafts like this Coffin Pop Up Card. Learn to make the pop up and you can create your own unique card.
Supplies
Decorative paper 
Ruler
Tacky Glue
Glitter
Cardstock
Craft knife or scissors
Stickers or pictures
Instructions
This tutorial will teach you the basics of pop-up card making and although it is very easy, your card will look very difficult to the receiver.  I have also written a six line poem which works well in the space allowed.  Here it is.

Ghoulish ghouls and flying bats
Skeletons and mean black cats
Flying witches, midnight fear
Spiders hanging far too near
Scary things I've never seen
Tonight's the night, it's Halloween

How to make a coffin.
I decided to tell you how to make any size coffin, in case you want to make a larger one for your scrapbook page this Halloween. This one is 5" tall and is the maximum height you can use in a pop-up card, but you can make it larger for a page. Follow the guide lines and you can make it whatever size you choose.  A fun idea would be to dress up as a skeleton and have your photo taken.  Then put your photo in the coffin.  You will 'scream' with laughter!
Use cardstock to make your templates so that you can draw around them to make another card.  Draw 5" tall by 2" wide.  Then draw a line across the center like this.  On the top half only, draw another line across the center.  Your drawing should now look like this.
 Now your drawing is divided by three, with the lower half the tallest.  Next mark one inch in the center of both the top and the bottom edges and draw diagonal lines from the center to the first line at the top and from the bottom to the center line like this.  You now how a proportioned coffin that will fit a human form.
Cut out your first template.
Coffin lid.  Using that template, draw around and make another one, except leave a quarter of an inch flap on one side.  Then use a ruler to fold it evenly and bend it.
Now you have a set of coffin templates to use any time.  Put them in a Zip-loc bag and keep them for future projects.
You will now need to choose a paper or cardstock to make you coffin.  I am using DCWV wood paper from their photo stack for coffin character.  You can use plain brown cardstock if you wish.
Draw them out on the back of your paper and cut them out.
The lid needs nothing added, but the base of the coffin needs depth.  If you are old enough to use a craft knife, the best way is to cut out a coffin piece in black cardstock.  Then cut out the inside leaving 1/8" edge to use on your coffin.  If you can't use a craft knife, then cut strips of cardstock 1/8" wide and glue around the edges.
Glue it on the side without the lip and then glue both pieces together like this.
If you make your coffin in paper like I did, then you need to strengthen the back to use as a pop-up.  Cut 2 pieces of cardstock 3/4" wide by three and one half inches long.  If you made it in cardstock then omit this step.
Glue the pieces on the back of the coffin like this.
If you have it, add black glitter all around the edge of the coffin part where the skeleton will go.  Let dry thoroughly.
Spider webs add character.  Use ordinary black sewing thread and wrap around the lid randomly and add pieces of cello tape on the back to hold it in place.  Do this often.
Now for the fun.  I used this set of 3D stickers and have some available for sale for $2 a packet which includes postage here in the USA.  You can also use any skeleton that will fit the coffin and look like it is the right size.
Attach the skeleton on the coffin side and the spider web and spider on the lid like this.  It's now ready to use as a pop-up.

Now to make the card.
Time to choose paper and cardstock.  To use paper for pop-ups it needs to be heavy weight.  I chose this nighttime paper with bats for the inside card and plain black cardstock for the outside.

Cut one piece five and three quarter inches by eleven and three quarter inches for the inside card.  Then cut the outside card 6" by 12".
Fold the inside card in half, wrong side out.  To understand how to plan for a pop-up I will explain it using the coffin.  First mark the center on the folded edge and line up the coffins like this and mark four times leaving 3/4" to attach each coffin piece.
Mark your four lines 3/4" inches deep.
Using a ruler to keep the folds straight, bend the two flaps.
Now push them forward to the inside of the card .
When folded after pushing them through the outside of the card will look like the photos below.
Now glue the outer card onto the inside card.  You can see there is 1/8" of black cardstock showing as a border.  This also adds to the design.  Now put glue on the two pop-up areas.  I recommend a good thick tacky glue for card making, not school glue.
Hold your coffin pieces against the pop-ups until it takes hold.
Now you need some Halloween word stickers to add more scary to your card.  If you don't have them, get someone to print the words out you want to use and glue them on to the card.
I added the ghost on one side and the stickers randomly including on the coffin lid.  Leave enough space free on the floor of your card to add your message or my poem.  I printed out my poem on white paper, cut it out and glued it down.
For the outside of your card, cut the inside design paper 5" by 5".
Glue down to the front of your card.
Now use whatever you like to announce what the card is about on the inside.  I die cut BOO! and glued it down and added glitter.  You can also use a large sticker.  Your card is finished and ready to give.
Contributor

Paper Craft Fairy
I am English by birth, American by choice. I live in my own world of designing and thinking up easier ways to teach others. I enjoy sharing my ideas. If you enjoy learning from tutorials check out all my blogs http://papercraftfairy.blogspot.com/ http://papercraftfairyscrapbook.blogspot.com http://linda-