Freezer Paper Stencil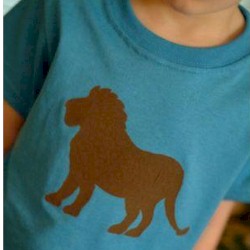 This project was contributed by Jaime Mitchell of Little Bird Creations and shows us how to use freezer paper to create easy t-shirt stencils. Kids can help create shirts painted with their favorites animals or other shapes.
Supplies
T-shirt
Freezer paper
Pencil or pen
Exacto knife

Acrylic paint
Textile medium
Foam craft brush
Bowl or container to mix paint in
Cardboard or shirt form
Iron
Pressing cloth
Instructions
First, take the shirt and wash and dry as it will be once finished and worn or you could use a plain tee shirt that needs a little excitement.
Next, take your freezer paper and draw/trace design of your choice on the "paper" side (not shiny) of the freezer paper. You might want to look through a simple coloring book for simple designs.
Then, on a craft surface, such as a craft cutting mat, cut out design with the exacto knife, being very careful. This part, as well as the iron and paint mixing is a job for parents to please supervise and help out with, depending on the age of the child.
Once design is cut out, take another piece of freezer paper and place it inside shirt, between the shirt and shirt form, with shiny side facing the inside of the shirt. Make sure to place it right under where you want to paint the design onto to help keep the paint from bleeding through.
Next, place the design, shiny side down on top of shirt. Position it as you would like. Then, with iron on cotton setting, iron freezer paper to shirt. You will only need to iron it about 2 to 3 seconds, just until it "sticks."
Now, you are ready to mix the paint! Take your paint and, depending on the color paint and shirt you are using, poor the amount of paint needed into the bowl or container. For the green lion shown on the blue shirt, it took about two coats of paint, so I used approx. 3 to 4 tablespoons if it were to be measured. However, I typically eyeball it. Next, following the manufacturers suggestion on the textile medium, mix together with paint.
Now for the fun painting part! Take your foam paintbrush, dip in the paint and start painting design onto shirt.
When finished, let dry overnight. Once drying is complete, you can gently remove the stencil and your freezer paper design will be revealed! Then, to heat set it, take your iron, on cotton setting again, and place pressing cloth over design and iron for a few seconds.
And Voila! A customized shirt is now ready to wear! Enjoy!
Contributor

Sudbudz
Want to have some creative family time? Print out our SudBudz® Masks and get crafty with the kiddos! More than just a typical Fizzy Bath Ball, SudPrize® is a first ever line of skin-loving and natural bath products that make bath time Fun for Kids and Easy for Moms. A Free companion App, SudBudz® engages your children into an immersive world of special and unique characters called SudBudz®.