Fortune Teller Cootie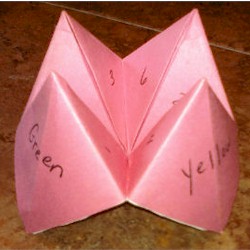 One of the timeless kids paper crafts. Also called "Cootie Catchers", these fortune tellers are just as popular today as they were when I was little. There are endless possibilities for what to write to create a fun game. Use your imagination.
Supplies
Two pieces of paper - large enough to make an 8" square
Note: Because one sheet of paper tends to be flimsy and rip easily on the seams. I glue two sheets of paper together. Here I glued a white and a pink to make it easier to see in the pictures.  Whatever color is started on the bottom will be the color of the fortune teller.
Instructions
To make it easier for you to follow, click on Printables and then each of the tumbnails for full illustrated instructions.
Patterns, Templates and Printables
Click on a pattern to open it in a new window