Flower Lei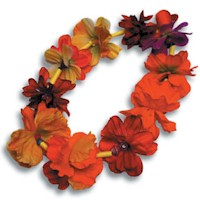 A Flower Lei has become a symbol of welcome for visitors to Hawaii. Different flowers and colors represent each island: Niihau – white; Kauai – purple; Oahu – yellow; Maui – pink; Molokai – green; Lanai – orange, Kahoolawe – grey; Big Island of Hawaii – red. Great craft for kids to make for VBS.
Supplies
Textured paper - yellow
Bright colored floral bush
Assorted plastic beads
Elastic cord
Decorative edge scissors
1/4" dowel
Glue
Instructions
Separate flowers from bush. Pull apart each individual flower so that you only have petals.
Cut twelve 2" x 6" strips of yellow textured paper with decorative edge scissors.
Roll strips of paper around dowel, slide off and glue edges to form a tube (paper bead). Make 12.
Cut a 36" length of elastic cord. Thread 2 decorative beads, a paper bead, 2 more decorative beads, and a flower cluster onto cording. Continue threading beads and flowers until you reach the desired length. Tie cording together at end in double knot.
This craft was designed by Joann Pearson of Michael's Arts & Craft Stores.
Contributor
HANDS ON Crafts for Kids
Remember what we all say at Hands On Crafts for Kids, "there's no right or wrong way to crafting…only our way!" We hope that you will join us for Hands On Crafts for Kids – Back to Basics.