Collage Litter Map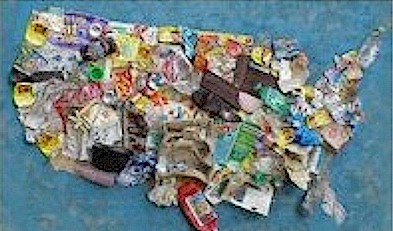 Let's resolve to keep our country clean, wherever we live. This Collage Litter Map is a great way to start the ball rolling. Look around your neighborhoods and see what you can do to clean up a park a beach or your block.
Supplies
Litter or other trash
Background support - like construction paper or cardboard at least 12" by 18"
White Glue
Pencil and eraser
Map
Instructions
Study the shape of the United States on the map. Trash is a problem all over the world, so if you live outside the United States, just substitute the shape of your country. Using a pencil, draw this outline on the background support. Pay special attention to the Great Lakes and states like Florida and Texas whose shapes help identify your finished picture as a map of the United States.
Being careful to follow the shape you have drawn, fill in the outline solidly by gluing the trash you have collected all over the map. You just recycled! Your collage may be displayed with the "America the Beautiful?" title. This will help remind others to keep the World clean.
Tips and Tricks:
Look for trash in your school and on your playground. Don't forget your room, desk, even you pockets and school bags. If you work with other people in your class or scout troop, this can be a fun group activity. Draw the map on a large cardboard flat rescued from a refrigerator or freezer carton. Work together to glue on the trash, and display the works in a prominent place for all to see.
Check out Art Lesson #1 at The Imagination Factory for the full lesson to go with this project.
Contributor

The Imagination Factory
Listed by the American Library Association as one of the best online resources for kids, The Imagination Factory shows visitors how to make art using materials most people throw away. Some of the activities include drawing, painting, sculpture, collage, papier-mâché, marbling and crafts, and a special section for holiday art and crafts is featured. A Trash Matcher helps visitors find appropriate art activities for the solid waste they have available, and a feature called the Badge Matcher allows Brownies, Girl Scouts and their leaders to quickly locate art activities that help satisfy badge requirements.