Family Tree Wall Art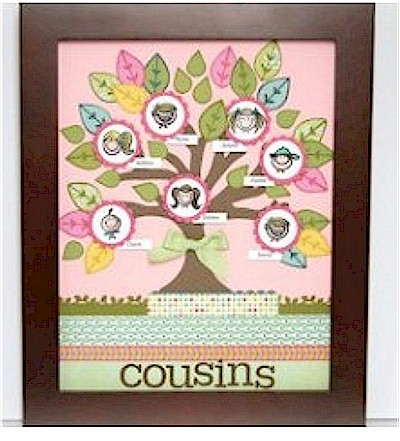 September 10th is Grandparent's Day. Have the grandparents make this Family Tree Wall Art with the kids. Now is the time for family get to gathers, and many don't quite understand family generations, I thought it would be helpful to have them help me craft a family tree to hang on the wall. Not only does a project like this get children excited about an upcoming event, it also helps them learn names of family members they might not see all that often.
This project is suitable for children of most ages and skill levels—there is truly something for everyone to do, so you'll have it completed in a just an hour. Even the preschool ages can help with squeezing the punches and coloring the stamped images.
Family tree projects can be whatever you make them to be (i.e. grandparents only, immediate family members, siblings, grandchildren, etc.). In this case, I chose to make my project just for the cousins in our family. If you choose the traditional route, it is also a subtle way to introduce younger children to genealogy too! .
Supplies
Cardstock: Bazzill
Patterned paper: Upcycle by Cosmo Cricket
Ribbon: May Arts
Foam Dimensional Adhesive
X-Large Tree Lever Punch
Scissors
Frame
Leafin' Around Squeeze Punch
Paper
X-Large Poppy Lever Punch Happy and You Know It Clear Stamp Set.
Patterned Paper
Instructions
1. First create your tree template by punching out a tree with the X-Large Tree Lever Punch, trace onto white paper, and then enlarge 400% on a copy machine. Label as your template for future use.
2. Cut out template with Micro-Tip™ Scissors (No. 5). Using temporary adhesive, place template onto brown cardstock and trace around the perimeter.
3. Cut tree from cardstock. If desired, add texture to the tree using the Honeycomb Texture Plate and Embossing Stylus.
4. Create a background large enough to fit your frame opening. If your frame is longer or wider than 12 inches you'll need to extend the length of your cardstock by layering papers along the bottom edge as shown.
5. Build several leaves with cardstock using the Leafin' Around Squeeze Punch.
6. Smaller leaves can be made by cutting apart petals from the X-Large Poppy Lever Punch with your Micro-Tip™ Scissors (No. 5).
7. Stamp, color and layer images that coordinate with the members in your family using the Happy and You Know It Clear Stamp Set.
8. Build your 'grass' area first using layers of patterned paper and cardstock. Green cardstock cut with the Leaves Border Punch or decorative edge scissors.
9. Adhere the tree and add large leaves in clusters around the branches, filling in with smaller leaves in the openings.
10. Adhere your 'family' faces with dimensional adhesive.
11. Print names of family members with font and font color you desire using a word processing program, trim out and attach using dimensional adhesive.
Images
Contributor

FISKARS
You can read creative and compelling articles by industry experts and get great new project ideas in the areas of home decorating, kids crafts, party invitations, scrapbooking, sewing, quilting, and more! In addition, fiskarscrafts.com will feature how-to videos on some of Fiskars' coolest products, offer live online customer service, and have a crafting message board.
Supplies
Instructions
Contributor

Sudbudz
Want to have some creative family time? Print out our SudBudz® Masks and get crafty with the kiddos! More than just a typical Fizzy Bath Ball, SudPrize® is a first ever line of skin-loving and natural bath products that make bath time Fun for Kids and Easy for Moms. A Free companion App, SudBudz® engages your children into an immersive world of special and unique characters called SudBudz®.