Easter Rice Krispie Nests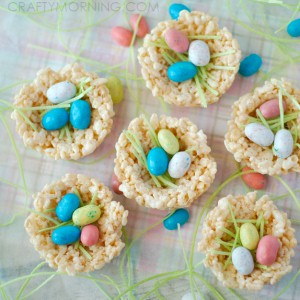 These Easter Rice Krispie Nests make the perfect addition to the Easter basket or the Easter table.  Kids and adults alike enjoy these pretty Easter treats.
Supplies
3 tbsp. butter
1 10 oz bag of marshmallows
6 cups of crisp rice (or rice krispies)
Edible Grass
Robins egg candies
Instructions
Melt the butter over medium heat and stir in the marshmallows. Continue stirring until completely melted. Pour the mixture over the crisp rice cereal and stir until well combined.
Spray a muffin tin with cooking spray and shape the nests. I found it helpful to also spray a spoon and use it to help make the indents. You could do this by hand but it would be quite messy!
To fill:
Let the rice krispies cool in the pan, pull them out, and decorate! I broke up the edible Easter grass, placed it in the next and filled the nest with the eggs. The robins eggs are so whimsical! Every spring in NY you find the hatched egg shells all over the ground.
You can also use coconut dyed green for the grass!
Contributor

SassyDealz.com
"Michelle has a teaching degree and for the love of art she started sharing kids crafts on her blog to inspire teachers, parents, and the little ones! SassyDealz.com is not only a craft website, but also a place where you can find online bargains and freebies!"