Easter Finger Puppets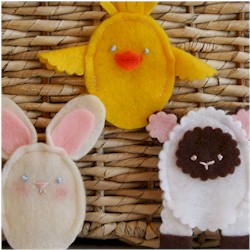 Finger Puppets are a great way to encourage children to create and tell stories. These little creatures will bring hours of fun.
Supplies
Felt
Embroidery thread
Craft glue
Fine Tip Marker
Fiskars Products:
5" Non-Stick Scissors
8" Bent Non-Stick Scissors
ShapeTemplate - Ovals
Scallop Fabric Shears
Pinking Shears
Sew Taxi
24" x 36" Cutting Mat
Note: If you are having small children create this project, use glue instead of machine stitching. Also, use beads, craft googly eyes or fabric paint to create the faces.

Instructions
1. Using the Oval Shape Template, use a fine tip marker to trace 2 - 2" x 2.5" ovals onto felt. This will be the body of the puppet. Depending on which animal you are making, cut with straight or scallop edged fabric shears. Use cream felt for the bunny, yellow for the chick and white for the lamb.
2. For each animal body, take one oval and trim a small curved section from the bottom. I used the template to trace the curve. This will make it easier for little fingers to slip the puppet into place.
3. Trace additional ovals onto coordinating felt using the smaller ovals on the template to create the following:
lamb face: 1 - 1.25" x 1.5" oval (brown)
lamb ears: 4 - .75" x 1" oval (2 pink and 2 brown)
chick's wings: 2 - 1.25" x 1.5" (yellow)
bunny's ears: 2 - 1.5" x 2" (cream) and 2 - 1.25" x 1.5" (pink)
Note: narrow the bunny ear ovals by folding them in half along the length of the oval and trimming to create a more oblong shape.

 
4. Also, cut 2 strips of white felt to create the lambís legs; cover and glue the bottom of each leg with pieces of brown felt.
5. Cut a 1" x 1.5" piece of yellow felt to create the tuft on top of the chickís head. Fold in half, trim with Pinking Shears and cut sections to fringe.
6. Layer and glue the ear pieces together as well as the lambís legs and set aside.
7. Cut a small diamond shape from orange felt for the chickís beak. Stitch this with orange thread to the front oval where the face will be.
8. With embroidery thread, stitch the eyes (French knots) and noses for each animalís face.
9. Glue the lambís face to the front body oval.
10. For each puppet, position ears, wings, legs, fringe in place and pin in place.
11. Machine stitch around the body of the puppet, leaving open the area at the bottom.
12. Unpin and theyíre ready to enjoy!
This craft was designed by Patti Millazo and is reprinted courtesy of Fiskars
Contributor

FISKARS
You can read creative and compelling articles by industry experts and get great new project ideas in the areas of home decorating, kids crafts, party invitations, scrapbooking, sewing, quilting, and more! In addition, fiskarscrafts.com will feature how-to videos on some of Fiskars' coolest products, offer live online customer service, and have a crafting message board.