Curly Paper Crown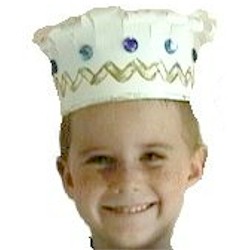 Boys love to dress up as Kings andPrinces. It's even more fun when they make the crown themselves.
Supplies
Paper
Stapler
Scissors
String
Instructions
Cut paper into strips about 35cm x 10 Cm's. Cut a fringe into one of the long edges of the paper, making sure that each piece of fringe is about 3cm wide.
After the fringe has been cut, roll up sections of the fringe around a pencil so that when you remove the pencil the fringe will be all curly.
Check the size of each child's head measurement then staple or sticky tape the crown to fit.
Contributor

CraftBits
Our website was created by a mother and daughter team, adding a unique combination of crafting qualities and expertise of creativity. We started our website after numerous years in the area of craft, teaching, retail craft and owning a gift store. We decided to launch it to provide resources for teachers, therapists, and craft enthusiasts in the year 1999. Since then, the website has grown tremendously in terms of content and resource information.