Easter Chick Embellishment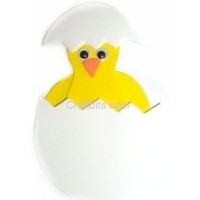 Use this cute little Easter Chick Embellishment to brighten up just about anything. Use it as a card or to decorate a package.
Supplies
Craft Foam or Cardstock in yellow, white and Orange
2 Wobble Eyes
Marker Pen
Glue
Instructions
Use the pattern under printables for a pattern or freehand the simple shapes for your child to cut out.
Glue the chicks body to the back of the egg and add the arms behind the body.
Glue on the eyes and nose to finish off the face
You can add an optional Egg Hat or add some plastic flowers or ribbons for a hat.
This foam chook is about 10 cms in height and can be used to make craft picks by sticking onto a wooden craft stick or thick card.
Use them to decorate Baskets, For Scrapbooking layouts or cards and much much more.
We've posted a photo below of this craft adapted by our favorite traveling grandmother Mary Ruthven. If you click on the photo, you'll be able to see the adaption in a larger size.
Patterns, Templates and Printables
Click on a pattern to open it in a new window