Cute Bubble Wrap Sheep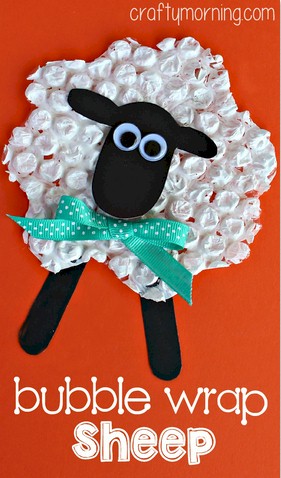 This Cute bubble Wrap Sheep is easy to make and requires very little in the line of materials. The kids can make a whole herd of sheep in a short time with a minimal amount of materials.
Supplies
Bubble wrap
White paint
Black paper
2 Googly eyes
Glue
Scissors
Instructions
Start by cutting a small piece of bubble wrap into a circle or a "flower" shape.
Grab some white paint and paint the bubble wrap. Once that dries, glue on the legs/head from the black paper. Stick on the googly eyes and there you have a cute little sheep!
You can make it even cuter by adding a polka-dot ribbon, of course ;)
Contributor

SassyDealz.com
"Michelle has a teaching degree and for the love of art she started sharing kids crafts on her blog to inspire teachers, parents, and the little ones! SassyDealz.com is not only a craft website, but also a place where you can find online bargains and freebies!"