Cuddly Love Cow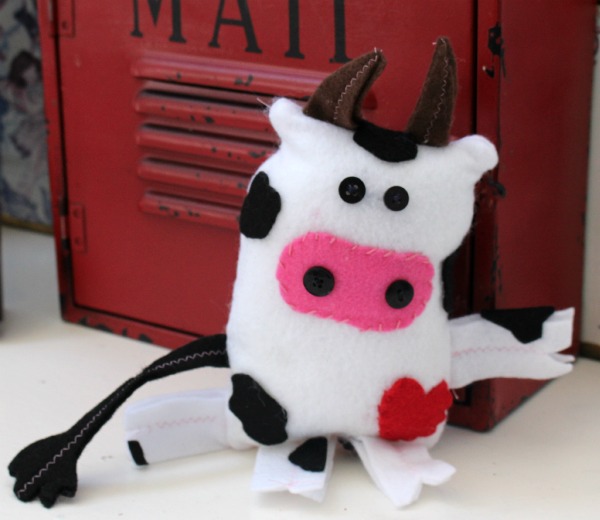 Who could resist this Cuddly Love Cow and what a fun beginning sewing project.  These cold winter days are the perfect time to settle down to fun sewing projects for yourself or friends and family.
Supplies
9" x 12" Kunin Classicfelt™ Craft Cuts, 3 White, 1 Black, 1 Brown, 1 Pink, 1 Red
Aleene's Quick Dry Fabric Fusion®
4 Black buttons
White, Red, Black embroidery floss
8 oz Fairfield polyester fiberfill
Scissors
Pins
Sewing machine
Matching thread
Instructions
Cut out pattern pieces as indicated on printable pattern page. Pin and cut out pattern pieces as shown from felt.
Use Fabric Fusion to glue spots to cow body pieces, arms and legs. Add heart to front of body stitching around piece.
Sew or glue on button eyes. Sew buttons on snout
Place arms, legs, tail, horn pieces together in pairs. Zigzag stitch through center of each pair.
Lay snout on face for position. Mark a straight 2" line on felt. Cut along line through felt.
Place felt body pieces together wrong sides together. Insert arms, legs, tail and horns in between body pieces. Pin and sew around body completely. Clip curves.
Turn cow through snout opening. Stuff. Add snout and stitch closed.
This is an easy enough project for the kids to make and enjoy! Make a whole herd.
Patterns, Templates and Printables
Click on a pattern to open it in a new window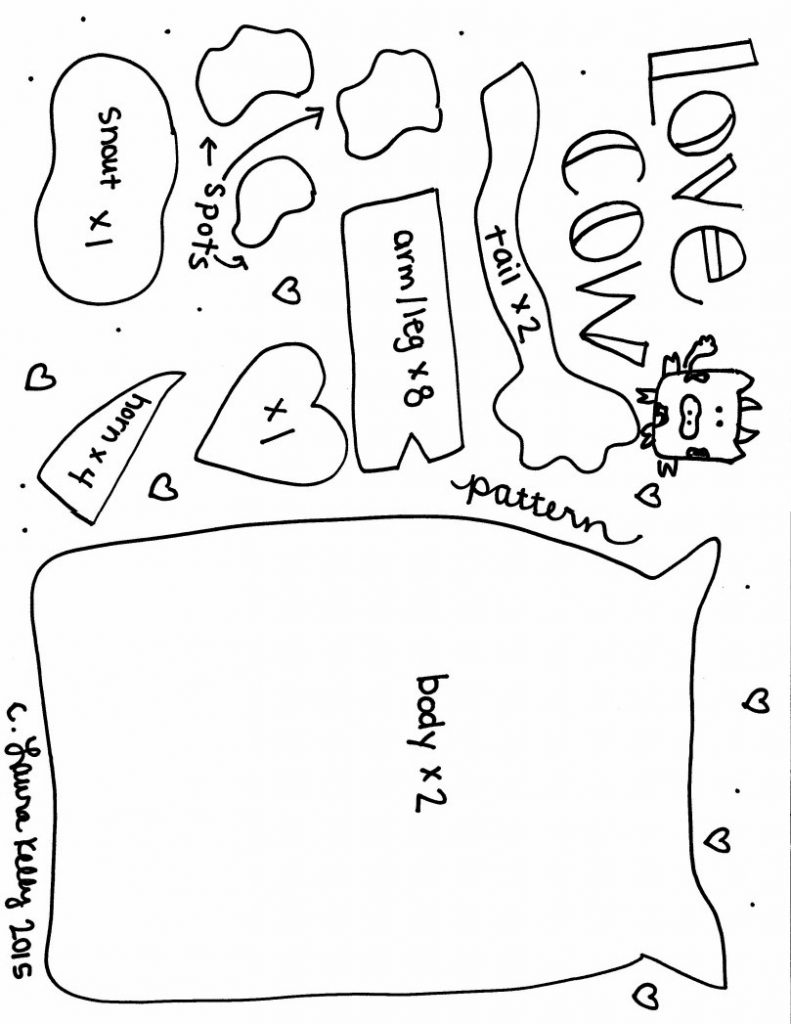 Contributor

The Kunin Group
The Kunin Group, a division of Foss Manufacturing Company, LLC, supplies a wide range of premium quality felt and fabrics to the worlds craft industry. Packaged for retail display, Kunin products are sold in retail outlets worldwide. All Kunin fabrics are made with Ecospun, the high-quality polyester fiber made from 100% post-consumer recycled plastic bottles. We are a green company as we spin the polyester fiber we use.