Crayon Butterfly Sun Catcher
This Crayon Butterfly is a favorite old way to use up bits and pieces of crayons. This craft project has been updated to appeal to  both younger children and the older ones who are looking for a bigger challenge. I makes a pretty window sun catcher that everyone can enjoy.
Trivia:
Did you know that butterflies taste with their feet or that a group of butterflies is sometimes called a "flutter"? How interesting is that! Source: zoonooz -19 Fascinating Butterfly Facts
Supplies
Waxed Paper
Bits of crayon
Warm iron (under adult supervision)
Scissors
Fishing line
Tacky glue (optional)
Black construction paper (optional)
Instructions
Click on the pattern below and print out butterfly pattern or create your own.
Place a piece of wax paper over the butterfly pattern. Sprinkle crayon shavings (sparingly!) on wax paper following the design on the download.
Place another piece of wax paper on top of the shavings and a blank sheet of paper or a cloth over that. Gently press down with a warm iron. Crayon will melt quickly.
Staple pattern to the crayon melted wax paper outside of the design area and cut out your beautiful butterfly. This may be enough for the littlest crafters.
We decided to go the next step and create a black outline for our butterfly to make it even more dramatic and a little more challenging for the older kids.
Take the Butterfly pattern, fold it in half in the middle and draw an outline on one side to create a frame for your butterfly. Leaving the pattern folded, cut through the two layers to create a symmetrical outline for your butterfly.
With a glue stick glue the pattern to the black construction paper and cut out. You can leave the pattern glued on and just turn it over so that the underside is the finished side for your project.
Spread tacky glue sparingly on the pattern side and glue to the waxed paper butterfly. We have found that tacky glue is the only glue that adheres to waxed paper. Now see how dramatic your butterfly becomes!
NOW if you want to go one step further, make another black frame ad sandwich the waxed paper butterfly between the two and it ill look equally beautiful no matter which side you see.
Punch a hole in the top of the butterfly and thread fishing line through to enable it to be hung in the window.
Butterfly Pattern
Click on pattern below to open in a new window to print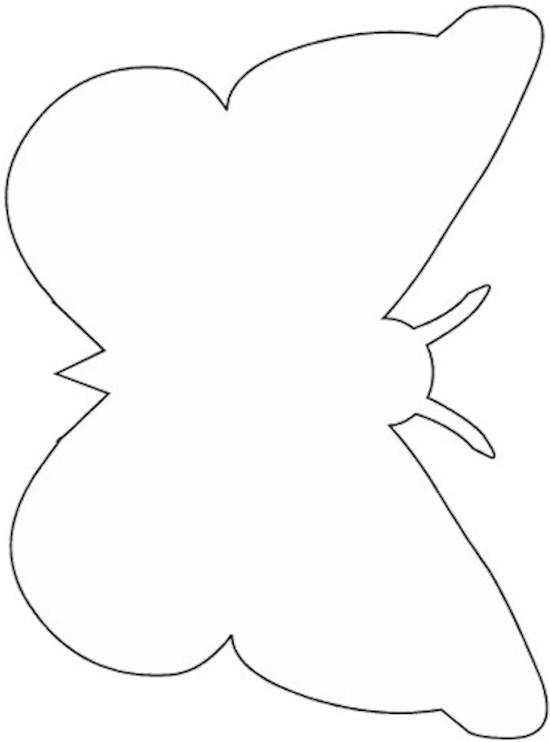 Supplies
Instructions
Contributor

Sudbudz
Want to have some creative family time? Print out our SudBudz® Masks and get crafty with the kiddos! More than just a typical Fizzy Bath Ball, SudPrize® is a first ever line of skin-loving and natural bath products that make bath time Fun for Kids and Easy for Moms. A Free companion App, SudBudz® engages your children into an immersive world of special and unique characters called SudBudz®.