Cow Picnic Chair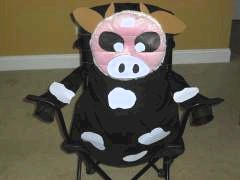 Six year old Karishma and her mother created this cute Cow Picnic Chair to add more fun to your summertime picnic in the country.  Karishma  loves art and craft work. One of her favorite hobbies is to do artwork with her Mommy.  She goes to River Ridge Elementary School in Evans, Georgia.
Trivia: Did you know that cows are sacred in India?
Supplies
Picnic chair (black)
White paper
Black paper
Brown paper (we used back of empty cereal box)
Pink Cushion for face (we used our daughter's)
Black Marker
Scotch tape
Strings
Instructions
1. Unfold the picnic chair and wipe clean if necessary
2. Tie the cushion using strings to secure a face for the cow
3. Cut out random shapes using the white paper to make spots
4. Cut out two oval eyes with black color paper
5. Cut two small white circles for inner eyes
6. Cut out a large oval nose with white paper and color black nostrils
7. Cut out ears in the shape of a leaf using brown paper
8. Cut out a tail using white paper (not shown in the picture)
9. Stick the cut out shapes using scotch tape. Using scotch tape helps to remove them easily later on.
10. You may choose to make other animals/birds/insects with different color chairs and paper
Contributor

FreeKidsCrafts Contest Winner
IT'S A WINNER! Take a look at what one of our talented viewers submitted to share with you. This craft was selected as one of this month's winners to received $50 in craft supplies. Click here to find out how you can enter your original creation for our judges consideration.