Clothespin Reindeer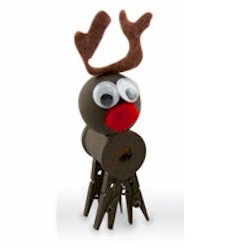 Santa never had a cuter reindeer than this little red nosed creature. The kids will anticipate his arrival as they create their own fantasy play.
Supplies
1" Doll Head/Knobs
Wood Paint Brown
Scrap of Red Soft Felt
19 x 12 Cocoa Soft Felt Sheet
4 1" Clothespins
Paintbrush
Craft Glue
2 3/8" Diameter Google Eyes
1 3/4" Spool
Instructions
Cut out the following pieces from Soft Felt Sheets: Cocoa: Antlers (Ours measure about 1" x 1 1/4") and Red: 1/2" Diameter Circle
 
Glue 4 1" Clothespins to 3/4" Spool. Make sure that it will stand correctly before letting set in place.

Glue 2 3/8" Diameter google eyes and red nose onto Brown 1" Doll Head/Knob.

Glue antlers to top of Rudolph's head.

Once clothespins have dried, glue finished head to spool.
This craft is reprinted courtesy of FaveCrafts.com.
Contributor
FaveCrafts.com
FaveCrafts is owned by Prime Publishing LLC, an Internet Media Company that operates web site communities, e-mail newsletters and e-commerce stores in niche areas such as crafting, home décor, wellness, and cooking. See their craft projects at https://www.favecrafts.com/