Clothespin Nutcracker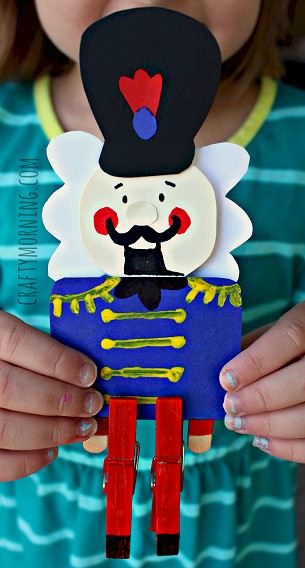 This Clothespin Nutcracker will be a hit during the holiday season. The kids can make a whole army of them to decorate packages, trees and tables.
You might like to read these books about the Nutcracker:
The Nutcracker by New York City Ballet and Valeria Docampo
The Nutcracker by Susan Jeffers
The Nutcracker and the Mouse King by E.T.A. Hoffmann and Marie-Michelle Joy
Supplies
2 Clothespins
Paint
Blue, tan, white, black, red paper
Red and black sharpie markers
Glue/Tape
Scissors
2 Miniature popsicle sticks
1 Big popsicle stick
Instructions
Start by taping two mini popsicle sticks to a blue square piece of paper. Cut out a head and a hat with paper. Paint the two clothespins red as well as the Nutcracker's arms on the popsicle sticks.
Take some yellow paint and make the buttons on the Nutcracker's shirt. Cut out some white hair with paper and glue it to the head. Take a big popsicle stick and glue/tape it from the tip of the hat down to the body so it's sturdy (if needed).
Once the red paint is dry, color the bottom with black sharpie to make the shoes. Clip on the two clothespins for legs and you're done!
Contributor

SassyDealz.com
"Michelle has a teaching degree and for the love of art she started sharing kids crafts on her blog to inspire teachers, parents, and the little ones! SassyDealz.com is not only a craft website, but also a place where you can find online bargains and freebies!"