Chinese Abacus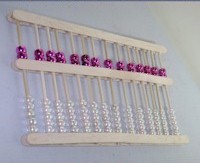 This craft requires some adult participation but will be a great leaning tool to introduce children to other cultures.
Supplies
12 recycled Popsicle sticks
7 recycled skewer sticks
Hot Glue Gun
65 beads for lower abacus (5 beads on each stick)
26 beads for upper abacus (2 beads on each stick)
Pliers
Instructions
First cut the skewer sticks in half
When you are done you should have 14 of them, but we will only use 13.
Now we will flush two Popsicle sticks against each other forming a large unit.
Glue each end and attach.
The following I call the locked-in process:
Cover one side of the Popsicle sticks with glue.

Attach all 13 skewer sticks to the large Popsicle stick uniformly.
Add glue on top of the base where the Popsicle sticks and the skewers unite forming a lock around the skewers.
Now Attach two Popsicle sticks on top of the base.
Add 5 beads per row of skewer sticks.
Repeat the locked-in process we used while forming the base of the abacus.
Now add 2 beads per each row.
Repeat the locked-in process we used while forming the base to complete abacus.
And that's it a homemade abacus that your children will love.
This craft is reprinted courtesy of SimpleKidsCrafts.com. They also have a video showing you how to use an abacus.
Contributor

SimpleKidsCrafts.com
Daily, easy, functional and beautiful Arts and Crafts projects on video for children of
all ages.