Cheerleader Gift Bag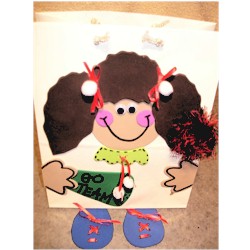 Football season is starting and there is nothing better than a football themed party even for the girls. These Cheerleader Gift Bags make the perfect take away and show school spirit too.
Supplies
Light tan gift bag
Brown, tan, lime green, dark green, pink, blue foam
Red ribbon
4 small white pom poms
Yarn to make cheerleader pom pom
Wood coffee stirrer or popsicle stick
Medium google eyes
Editor's Note: Make your pom poms in school colors.
Instructions
Click on Printables and print and cut out foam parts by using pattern pieces

Tie ribbon on each side of hair and tie into bows

Glue on face and the hair

Glue a white pom pom next to each hair bow

Glue on eyes and cheeks.

Draw smile with black marker

Punch holes in sneakers and lace with ribbon, tying into bow at top

Glue sneakers under bag

Write slogan on megaphone and glue on bag.

Glue left hand on, placing fingers over megaphone

Wrap yarn around your 4 fingers many times to achieve a good size ball. Slide yarn off and tie a piece around it to hold together.

Put glue on end of stick and slide into ball of yarn.

Cut ends to shape into pom pom and give it a good shake .

Glue onto bag on right side, then glue hand on top.

Punch holes in center of collar and tie a bow.

Glue collar under face.

Glue a pom pom on each end of bow ribbon
Patterns, Templates and Printables
Click on a pattern to open it in a new window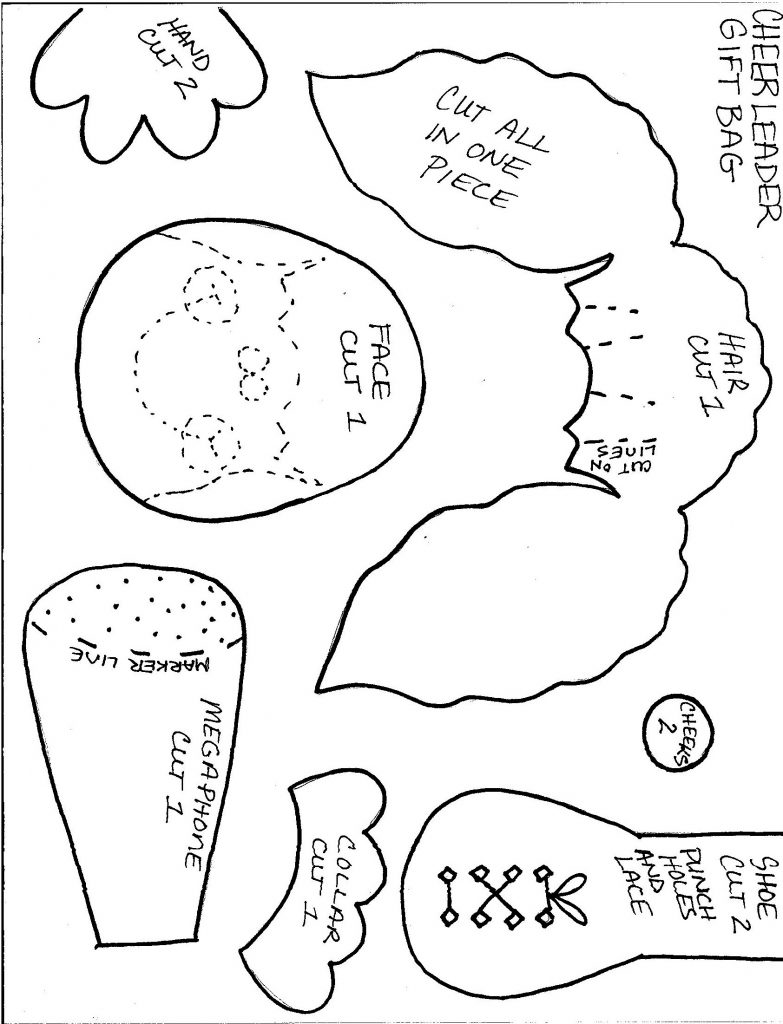 Contributor

Mary Ruthven
 Mary is one half of a creative team for a site called Crafting Tales. Here you will find craft projects and patterns galore with a large section for Kid's crafts. They also have contests, gift shops and much more. Visit them at www.craftingtales.com