Cheerios Lion Birthday Cake Decoration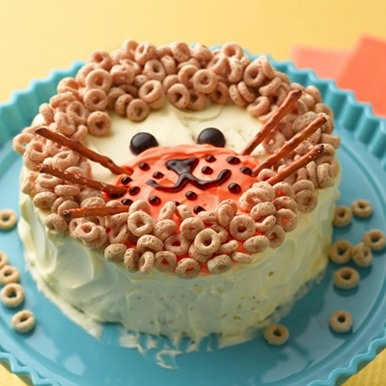 What could be better for a first birthday cake than this Cheerios Lion Birthday Cake Decoration! Even the littlest birthday celebrant will dive into the Cheerios with gusto.
Trivia: Modern birthday parties are said to get their roots from the 18th century German celebration "Kinderfeste." On the morning of a child's birthday, he or she would receive a cake with lighted candles that added up to the kid's age, plus one.  Source: Readers Digest – Here's Why You Should Thank the Ancient Greeks for Your Birthday Cake
Supplies
1 box Betty Crocker™ Super Moist® yellow cake mix
1 cup mashed very ripe bananas (2 medium)
1/2 cup vegetable oil
1/4 cup water
3 eggs
1 package (8 oz) cream cheese, softened
1 container (6 oz) Yoplait® Original 99% Fat Free French vanilla yogurt
Golden yellow gel or paste food color
Orange gel or paste food color
3/4 cup Cheerios™ cereal
6 pretzel sticks
2 brown candy coated pieces
Brown decorating gel
Instructions
For this Cheerios Lion Birthday Cake Decoration start by heating the oven to 350°F (325°F for dark or nonstick pans). Grease with shortening or cooking spray bottom only of 1 (6-inch) round cake pan and place paper baking cups in 16 regular-size muffin cups.
In large bowl, beat cake mix, bananas, oil, water and eggs with electric mixer on low speed. Beat on medium speed 2 minutes, scraping bowl occasionally until smooth. Place 1 3/4 cups batter in 6-inch round pan. Spoon remaining batter into 16 lined muffin cups. Bake round cake 35 to 40 minutes and cupcakes 18 to 23 minutes or until toothpick inserted in cake comes out clean. Cool 10 minutes; remove from pans to cooling rack. Cool completely, about 30 minutes.
In small bowl, beat cream cheese and yogurt on medium speed with electric mixer until creamy and smooth. Stir in yellow food color until mixture is desired color. Place 3 tablespoons of yellow frosting in small bowl; add orange food color to get desired orange color.
To frost and decorate cake, slice 6-inch round cake horizontally to remove rounded top. Place cake cut side down on plate. Use yellow frosting to frost top and sides of cake. Use orange frosting to make muzzle of lion. Place cereal around top edges of cake to form the lion's mane. Add brown candy coated pieces for eyes. Insert pretzel sticks into cake near muzzle for whiskers. Use brown decorating gel to make mouth, nose and whisker spots on the lion face. Use remaining frosting to frost cupcakes. If desired, use cereal to decorate the cupcakes. Store cake and cupcakes in refrigerator.
Contributor

Cheerios
A Product of General Mills. We serve the world by making food people love.
It's a simple statement. But in a world of changing food values, it's powerful.
Supplies
Instructions
Contributor

Sudbudz
Want to have some creative family time? Print out our SudBudz® Masks and get crafty with the kiddos! More than just a typical Fizzy Bath Ball, SudPrize® is a first ever line of skin-loving and natural bath products that make bath time Fun for Kids and Easy for Moms. A Free companion App, SudBudz® engages your children into an immersive world of special and unique characters called SudBudz®.