Cardboard Tube Penguin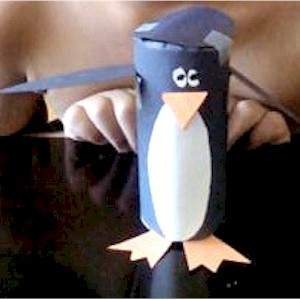 Kids will enjoy making this Cardboard Tube Penguin. You can make a whole waddle of them with your friends or to add to your collection of cardboard tube animals.
Trivia: Groups of penguins in water are called rafts and groups on land are called a waddle and a group of penguins in nests are called rookeries.
Supplies
Empty toilet paper roll
Black marker
Black, Orange, White paper
Tape or glue sticks
Wiggle eyes
Instructions
To make this Cardboard Tube Penguin, cut black paper to cover the cardboard tube and glue down.
Cut an oval from the white paper for the Penguin belly and glue using the picture as a reference.
Cut two leaf shaped wings from the black paper and glue to the sides of the paper tube folding it to create the wing. See picture.
Cut a triangle out of the orange paper to form the beak and glue to cardboard tube.
Glue two wiggle eyes above the beak.
Cut two feet from the orange paper for the feet and glue the end to the inside of the cardboard tube folding to create the feet. (see picture)
Contributor

SassyDealz.com
"Michelle has a teaching degree and for the love of art she started sharing kids crafts on her blog to inspire teachers, parents, and the little ones! SassyDealz.com is not only a craft website, but also a place where you can find online bargains and freebies!"