Cardboard Tube Octopus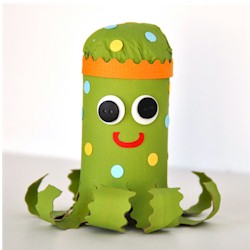 What child would not want to make this cute little octopus? It is made from cardboard tubes that normally go right into the landfill. Craft and recycle at the same time. Decorate your mini octopus with dots, stripes, buttons, googley eyes, and anything else you have around the house.
Supplies
Kleenex
Cardboard Tube
Paint
Paintbrush
Scissors (scalloped scissors make it fun)
Construction paper
Glue
Buttons or Wiggle Eyes
Instructions
1. Wad about 3 sheets of kleenex into a ball, then wrap the ball with 1 more kleenex sheet. Insert it at the top of the tube to create a domed head for the octopus.

2. Paint the outside of the tube and the top of the head. Let dry.

3. Using a decorative paper edger, make 8 equal vertical cuts halfway up the tube to make the tentacles.
4. Curl each tentacle upwards by rolling them on a sharpie marker.
5. Paint the underside of each tentacle.
6. Use buttons for eyes and use the "cup handle" of the Bistro Brew squeeze punch for the smiling mouth.
7. Add 1/4 inch circles using a contrasting colored cardstock. Adhere the dots all over the octopus' body. Add a band around its head.
This craft was designed by Valerie Salmon and is reprinted courtesy of Fiskars.
Contributor

FISKARS
You can read creative and compelling articles by industry experts and get great new project ideas in the areas of home decorating, kids crafts, party invitations, scrapbooking, sewing, quilting, and more! In addition, fiskarscrafts.com will feature how-to videos on some of Fiskars' coolest products, offer live online customer service, and have a crafting message board.