Button Bulletin Board Thumbtacks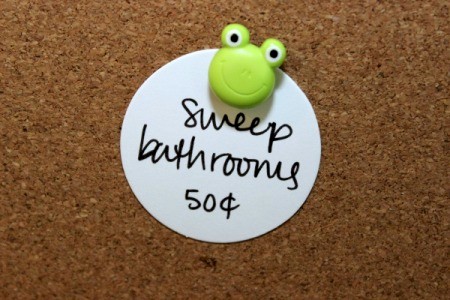 These Button Bulletin Board Thumbtacks will get the kids attention to important messages at home or at school. Let them help you select the buttons and they will be sure to look for them often.
Trivia:  Until the 19th century, most buttons were used for men's clothing.  Women's clothes were fastened with hooks and lacing.
Supplies
Thumb tacks
Buttons
E6000 glue
Wire cutters, optional
Instructions
If you choose buttons with a plastic shank on the back you will need to cut it off with a pair of wire cutters.
Apply a small amount of glue to the thumb tack and/or the button back. NOTE: Follow the package instruction for the type of glue you use. For the E6000 glue (on smooth surfaces) it says to put glue on both surfaces that you are going to adhere and wait 2 minutes before pressing them together.
Press the button onto the thumb tack and hold firmly until they are well attached. Then set them aside to dry completely before using them.
Buttons without a shank don't require any preparation. Just apply the glue as directed, adhere the button to the thumb tack, and allow to dry.
Contributor

ThriftyFun
Our goal at ThriftyFun.com is to provide valuable information to help people save money, save time and solve problems. ThriftyFun and its predecessors have been online since 1997. ThriftyFun has grown from modest beginnings to become a vibrant online community. Today, ThriftyFun.com is an interactive Web site where you can post questions and contribute answers to others who are trying to have fun while saving money.