Bunny Peeps Bunting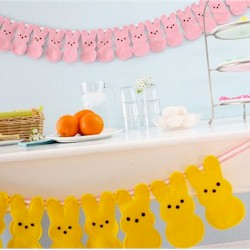 Peeps are always associated with Easter. Here is a way to incorporate them into your decorating theme on a grand scale.
Supplies
Felt- 1/2 yard or less, yellow or pink
Brown fabric paint
Pencil (or other round object)
Ribbon/fabric for bunting
Sewing machine
Instructions
First, cut out your pattern. Click on Printables and print out the pattern. Enlarge the pattern to the size that you want to use.
Okay, with your bunny pattern printed and cut out (I usually print on paper and then trace/cut an additional pattern out of cardstock or from a file folder. MUCH easier to trace around a stiffer bunny over and over again).
Fold your felt in half (because each bunny is a double-layer). You can make them single layered if you want the cheap/easy way. But it\'s less polished looking and a bit see-through. So I recommend double-layers. Then trace and cut out as many bunnies as you\'d like. The pink bunting has 18 bunnies. The small yellow bunting has 9:
Time to decorate their faces. You\'ll only be decorating the front bunnies (the back bunnies are left plain). You\'ll need a pencil eraser or something round. And brown fabric paint. I prefer Tulip brand, Matte, Chocolate.
Dip your pencil eraser in the paint, and dab it right onto each bunny. The beauty of Peeps is that they\'re far from perfect. If you look at a box, each face is slightly different. So don\'t worry about being precise or even symmetrical!

Make sure you place a piece of paper under your bunny because paint may seep through to the back.
Starting to see a resemblance......
Let your bunnies dry for a hour or longer. If you\'re antsy, you can speed up the process by drying them with a blow dryer, but be careful that they don\'t fly all over the place!
While you\'re waiting for the faces to dry, prep your bunting ribbon. You can use fabric, ribbon, rope, colorful twine (THIS stuff is totally cute). My favorite method for making "ribbon" is to cut strips of fabric (I used double-layered white muslin in this case), sew the strips together to make a very long strip, and then I serge the edges. Perfect for wrapping gifts and in this case, for making a bunting. Each finished "ribbon" is about 100 inches long but that was much longer than needed.
Time to sew on your bunnies.
If you want the quick and easy way, grab a bunny back and a bunny front and sew that double-layered bunny to your ribbon and keep on going till you\'re bunnied out.
But if you want the slightly longer method that I did (it only took a bit longer)...
I sewed each bunny back on to the ribbon while the faces were drying. Just lay one down and sew across the ears:
Then grab the next bunny back and repeat:
Sewing the backs on first makes the bunting a bit stronger, the bunnies are likely to be straighter, and it\'s more polished looking. After sewing the back bunnies on by their ears, you sew the front bunnies on top, sewing an outline around each one.
(Okay, okay...so I was just bored and couldn\'t wait to get started while those blasted faces were drying! Either method you use, your bunnies will look great.)
Here\'s where I laid the front bunnies on top of the back bunnies and sewed all the way around each one. Repeat this step till all your bunnies are on!
and, you\'re done!
This project is reprinted courtesy of FaveCrafts.com.
Patterns, Templates and Printables
Click on a pattern to open it in a new window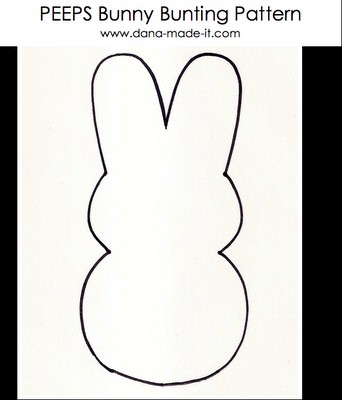 Contributor
FaveCrafts.com
FaveCrafts is owned by Prime Publishing LLC, an Internet Media Company that operates web site communities, e-mail newsletters and e-commerce stores in niche areas such as crafting, home décor, wellness, and cooking. See their craft projects at https://www.favecrafts.com/