Bubble Wrap Apple Card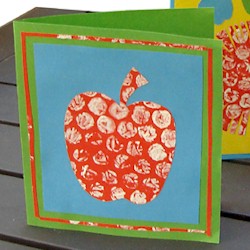 This lovely card made with bubble wrap would be perfect for all kinds of occasions. September 29, 2011 is the beginning of Rosh Hashanna and this would be a wonderful card to make for friends and family.
Supplies
Bubble wrap
White Acrylic paint
Large paint brush or sponge
Construction paper
Scissors
Cardstock (Optional)
Glue stick
Instructions
1.Apply not watery gouche or acrylic paint to a piece of bubble wrap with either a large paint brush or a dense sponge.
2.Gently place painted side of bubble wrap on paper, burnish with your fingers, and lift off to view the results. The quickest printing I've ever done with predictable results!
3. Cut out your design. In this case it is a simple apple and glue to your card.
4. And as a side note, I've found that when using colored paper, white paint always looks the best. You know, fresh, clean interesting.
5. Make your own card from construction paper or glue your creation to cardstock cut down to card size. Be creative with your decorations to make it a special one of a kind card.
This craft is reprinted courtesy of CreativeJewishMom.com.
Contributor

CreativeJewishMom.com
Visit me at CreativeJewishMom.com. on the exciting journey of giving greater meaning to the everyday through creativity. This blog is my way of sharing with you the joys of crafting, decorating, cooking, and gardening. I love simple ideas, recycling and quick transformations.