Best Dad Trophy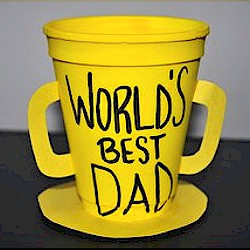 Sometimes we forget to tell Dad that he's the best. This special trophy made by his own kids says it all.
Supplies
Paper or Styrofoam cup
Yellow paint
Paintbrush
Yellow construction paper
Black marker
Scissors
Glue
Newspaper
Instructions
Paint the entire cup with yellow paint. Make sure to do the inside too!
Set it aside to dry.

Step #2:
With yellow construction paper, cut out two handles for your trophy.
Measure to make sure they fit nicely for the size of your cup.

Step #3:
Cut out a circle the size of the opening of your cup.

Step #4:
Using your black marker, write "World's Best Dad" on your cup (once it is dry).

Step #5:
Glue the circle you made to the bottom of the cup.
Glue a handle on each side of the writing.
This craft is reprinted courtesy of Easy Crafts For Kids where you will find complete illustrated instructions.
Contributor

Easy Crafts For Kids
Join the Crafty Critters over at easy-crafts-for-kids.com for tons of easy crafts with simple step by step instructions. Stop by and meet the critters!