Bag Tags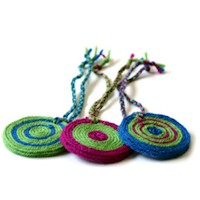 Whether kids are going back to college or on vacation, with these Bag Tags it will be easy to find their bags in a crowd of look-alikes when they attach these colorful tags.
Supplies
860-171 Vanna's Choice® Yarn: Fern
860-144 Vanna's Choice® Yarn: Magenta
860-107 Vanna's Choice® Yarn: Sapphire
Cardboard
Craft glue
White paper
Hole punch
Instructions
LUGGAGE TAG
Cut 3 in. (7.5 cm) diameter circles from both cardboard and paper. Glue paper circle to one side of cardboard circle. Allow to dry. With hole punch, punch a hole in cardboard about 1/4 in. (6 mm) inside outer edge.
Apply a small amount of glue to opposite side of cardboard . Beginning at center of circle, glue yarn in desired colors in a spiral to cover cardboard. Continue to apply glue and yarn to cover edges of circle, then to make a border on remaining side of circle, leaving center of paper-covered cardboard uncovered for name tag.
Allow to dry.
Braided Tie
Cut 3 strands of yarn, in colors as desired, each 30 in. (76 cm) long. Knot strands tog at one end and braid. Knot remaining end. Fold braid in half. Draw fold through punched hole and yarn strands covering it, forming a loop. Pull ends of braid through this loop. Pull to tighten.
Contributor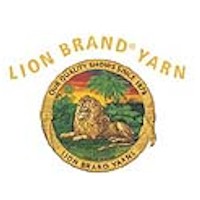 Lion Brand Yarn
Lion Brand is a family-owned and operated business and a beloved American brand since 1878. Today, the business is run by four members of the fourth generation of Blumenthals. It is their passion for yarn, reflected by all Lion Brand associates, that is the secret to Lion Brand's success.