Snowman on a Stick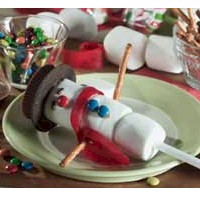 Supplies
3 JET-PUFFED Marshmallows
1 Lollipop stick (8 inch)
1 Peanut butter cup
1 FAMOUS Chocolate Wafer
1/2 Tsp. creamy peanut butter
2 Pretzel sticks
1 Chewy fruit snack roll
5 Candy-coated chocolate pieces
Instructions
THREAD marshmallows on lollipop stick to resemble a snowman.
ATTACH peanut-butter cup to wafer with half of the peanut butter. Place on top of snowman for the "hat," securing with remaining peanut butter. Insert pretzel sticks into middle marshmallow for the "arms."
CUT fruit roll into desired length for the "scarf;" wrap around snowman. Decorate with candies as desired
Contributor

Kraft Foods
For over two hundred years, many companies have united to make Kraft Foods what it is today. Check out their heritage page and learn the many companies that comprise the Kraft family of foods.
Tags snowman party crafts
Newsletter
Subscribe to our free newsletter to get creative crafts mailed to your inbox.