Shamrock Wreath
Decorating for St. Patrick's Day can inexpensive as well as fun when you look for materials from the Dollar Store. Stephanie for MakingFriends.com created this pretty wreath using shower curtain rings as a starting point.
Supplies
Shower Curtain Rings
Ribbon
Card Stock
Hot Glue Gun
Sequins
Scissors
Instructions
Lay the shower curtain rings flat in a circle shape then glue them to hold the shape.
Take assorted ribbon and weave in and out of the shower curtain rings. With the extra ribbon tie a bow on the bottom.
Glue sequins onto the ribbon.
Cut out a shamrock shape from the card stock.
Decorate the shamrock with sequins.
To hang the wreath make a loop with the ribbon, put the wreath in the middle of the loop. Adhere both ends to the shamrock.
Listed under:
Dollar Store Crafts, St Patricks Day Crafts, Wreaths
Tagged as: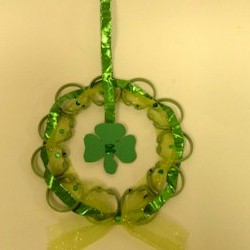 Contributor
Everyday Dishes & DIY
Everyday Dishes & DIY (formerly Cherylstyle) is an online lifestyle media company stirring up dependable recipes and crafts for the everyday family. We collaborate, develop, test and re-test all original content in-house, working out the kinks so you don't have to! Everydaydishes.com publishes new recipes, diy projects, craft ideas and videos daily.
You might also be interested in