Printable Pirates Chest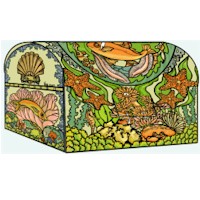 Supplies
Scissors
White Cardstock or Heavy Paper
Colored Pencils or Markers
Glue
Instructions
Print either the colored pattern or the black and white version of the chest.
Color first then cut out, fold and glue for a delightful treasure chest all your own.
Phee McFaddell also encourages you to express your self by designing your own chest.
Contributor

PheeMcFaddell.com
In Phee's words "It's really all a matter of learning to use your imagination, all proper like of course, instead of treating it like that ugly third cousin you'd just as soon stuff in a closet as look at. And what do you suppose this world of yours would be like if there weren't some around brave enough to be creative? Well, you'd be missing a whole lot of conveniences I'll tell you that, plus the scientific developments, and all the beautiful art."
Tags pirate crafts
Newsletter
Subscribe to our free newsletter to get creative crafts mailed to your inbox.