Cardboard Tube Flowers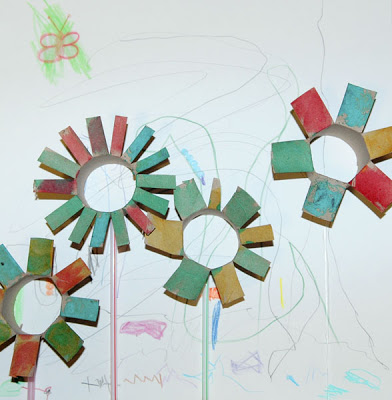 Celebrate Spring with these fun Cardboard Tube Flowers. Another way to create crafts with recycled materials that would end up in the landfill. This is a fun craft for young crafters.
Supplies
2 Toilet paper rolls
Construction paper
Scissors
Crayons or markers
Glue
Instructions
Cut your toilet paper rolls in half so that you have 4 smaller tubes.
Cut slits half way down each tube. I did various sized cuts so that the flowers had different sized petals.
I cut 3 of the tubes and let Cole cut the last one by himself. It was difficult for him to cut through the cardboard tube but he enjoyed the challenge.
Fold back the slits that you made.
Using crayons, markers or paints decorate the petals of your flowers. We used Roll It Paints. I like these paints a lot because they are easy for little hands to use.
While your flowers dry draw a spring picture on a sheet of construction paper. Cole really wanted to draw some bugs and grass, so that's what we did. We also used straws for the stems of our flowers.
Glue your flowers onto your paper and enjoy your creation.
Contributor

TPcraft.com
TPcraft.com is the perfect place to find fun and educational activities for kids of all ages.  We utilize toilet paper rolls, paper towel rolls and other cardboard tubes commonly found around the home to create something new and exciting!