Life-Size Occupations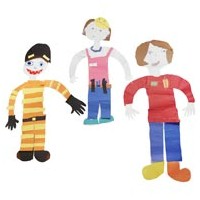 Supplies
Large white poster board
Markers, crayons, paint
Construction Paper
Scissors
Glue
Instructions
Have children take turn laying down on poster board while a friend draws around their outline.
Cut out sillouette and decorate with the uniform of their chosen profession, drawing in their own self portrait. Go to Elmers Large Classroom projects for a complete lesson plan.
Contributor

Elmers
Tags Labor Day Projects
Newsletter
Subscribe to our free newsletter to get creative crafts mailed to your inbox.