Yarn Doll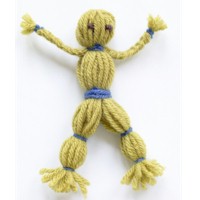 Let's go back in time when frontier mothers made a yarn doll for the entertainment of their girls. Many stories came alive with these simple hand made toys.
Supplies
Note: (A) Vannas Choice® Yarn: Pea Green  1 ball
Note: (B)  Vannas Choice® Yarn: Sapphire  1 ball
Note: (C) Vannas Choice® Yarn: Chocolate  1 ball
Large-Eyed Blunt Needles
6 in. (15 cm) piece of cardboard
Instructions
Wrap A around cardboard 26 times. Cut a length of A, and thread doubled into large-eyed blunt needle. Insert needle under all strands at upper edge of cardboard. Pull tightly and knot securely near strands. Cut yarn loops at lower edge of cardboard.
Cut a length of B and wrap tightly around loops 1 1/2 in. (3.5 cm) below top knot for neck. Knot securely; thread ends into needle and weave ends to center of Tassel.
Separate 6 strands on each side of Tassel for arms. Divide strand on one side into 3 groups of 2 strands each. Braid for about 2 in. (5 cm). Wrap ends with a length of B, then trim just below wrap.
Repeat for second arm.
Wrap remaining strands of Tassel with B about 1 1/2 in. (3.5 cm) below neck to make waist.
Divide strands below waist tie into 2 groups. Wrap each group with B for 'knee' and 'ankle'.
FINISHING
With C, embroider straight stitch eyes.
Trim all ends.
Contributor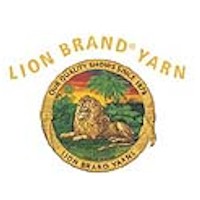 Lion Brand Yarn
Lion Brand is a family-owned and operated business and a beloved American brand since 1878. Today, the business is run by four members of the fourth generation of Blumenthals. It is their passion for yarn, reflected by all Lion Brand associates, that is the secret to Lion Brand's success.