Woven Valentine Heart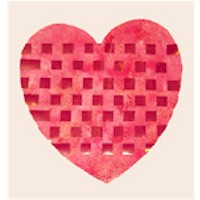 An easy weaving craft that kids can make into a pretty Valentine for a special friend.
Supplies
Paper
Scissors
Craft knife (this should only be used by a responsible adult.)
Instructions
Cut a heart from a heavy sheet of paper. Cut narrow strips of paper from a different colored paper. I used colored wrapping paper with a gloss. It was pliable and easy to weave.
With a craft knife cut slits in the heart (Don't go all the way to the edges). Click on Printables for illustrations on this craft. 
Weave the strips through the slits, pushing them to the top of the heart. Alternate the strips - the first one over/under/ the second, under/over etc .
You can add to this project by making your own papers.  The age of the child will determine how much you are going to prepare for them. Since the weaving requires manual dexterity, don't push it if they get frustrated.
This kids craft reprinted courtesy of Kabubble.com.
Patterns, Templates and Printables
Click on a pattern to open it in a new window
Contributor

Kabubble
With ten years of "Grand" parenting behind the team at Kabubble they've come up with lots of ideas on how to have lots of fun along the way and they have created treasured memories. This site shares those ideas with all grandparents and parents.