Wooly Australian Sheep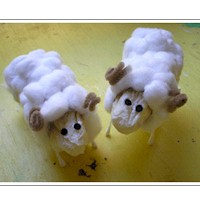 Set up your own farm complete with a herd of Wooly Australian Sheep. You won't need any fancy supplies to get started on this activity – simply raid your bathroom cabinet! 
Supplies
Toilet paper roll
Cotton wool balls
Cotton buds (q-tips)
White glue
Tissue paper
Pipecleaner
Tape
Instructions
See photos below for easy to follow directions.
Tape cotton buds (q-tips) on to the cardboard roll to make legs.
Scrunch up some tissue paper and stuff it into one end of the roll to make a head.
Pour some white glue into a shallow dish. Then dip the cotton wool balls into the glue and stick them all around the cardboard roll.
Keep sticking until your sheep is woolly all over.
Add some eyes (we glued black paper circles onto the tissue paper) and make some horns by twisting small pieces of pipecleaner around your finger. Glue the horns onto the sheep using white glue. So cute!
Contributor

kids craft weekly
Each issue of Kids Craft Weekly outlines a selection of activities for young kids. The ideas in are intended to be cheap, educational and fun and can be used as suggested, or simply as a starting point from which you can develop your own plan of attack.