Wine Cork Angel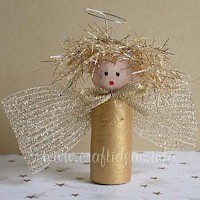 Angels are a favorite for young and old. Create one or a whole choir of Wine Cork Angels for your holiday decorations.
Supplies
Wine cork
Small wooden bead or styrofoam ball measuring 2.5 cm
Gold, black, red and flesh color paint
Gold glittery yarn
Gold ribbon netting (20 cm piece)
Small gold ribbon for bow
Hot glue gun or thick craft glue
Parents or supervisors should assist the kids when using the hot glue gun!
Instructions
Paint the cork, wood bead or styrofoam ball  and let the pieces dry. Glue when dry.
Fold the ends of the netting to the middle and overlap these ends.  Wrap sire around the middle section, creating a bow.
Create another bow out of the thin ribbon.
Cut some gold glitter yarn and gather the pieces together. Tie the bundle in the middle and glue to the top of the head . Pull  in different directions so that the entire ball is covered with hair.
Form a loop at one end of a piece of wire.  Bend this loop in a 90° angle. Glue the long end to the back of the head under the hair.
Put eyes and mouth on the angel's face.
Glue the netting bow to the back of the angel to form the  wings.
Glue ribbon bow to the front  of the angel
Contributor

Craftideas.info
On Craftideas.info you will find hundreds of free craft projects for all seasons of the year, free craft templates for the projects and over one hundred step-by-step picture tutorials. New crafts, patterns and tutorials are being added regularily!