What's For Dinner Placemat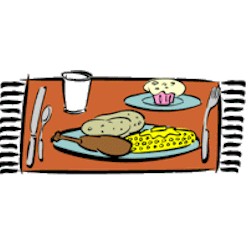 Get the kids into the spirit of a fun Thanksgiving dinner by making their own What's For Dinner Placemat. This placemat is good for dinner any night.
Supplies
Paper
Scissors
Glue Stick
Colored Paper or White Paper and Crayons
Large Paper
Contact Paper
Patterns
Instructions
Click on Printables and print, color and cut out all pieces. You can print on colored paper or color the pieces with crayon.
Glue plates and silverware pieces onto a large piece of paper to make a place setting. Glue on food. Cover with contact paper.
Patterns, Templates and Printables
Click on a pattern to open it in a new window