Whale of a Card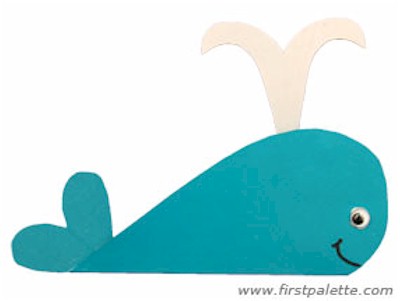 This Whale of a Card is an easy project for younger children to make for Father's Day. It's also an easy project for some of the VBS oceanic themes.
Supplies
Blue or gray construction paper
White construction paper
Scissors
Glue
Pencil
Wiggle eye
Instructions
Fold a blue or gray-colored sheet of construction paper in the middle. Draw half a heart shape along the paper's folded edge. This will be the whale's body.
While keeping the paper folded, cut along the outlines. When unfolded, you will see that the paper shape is a heart!
Transform the folded heart into a whale by positioning it in a horizontal position, with its straight edge along the bottom and the opening on top.
Cut out a smaller heart for the tail and glue this at the back of the whale, close to the tip.
To make the water that spouts out from the whale's blowhole, make a smaller heart shape (follow steps 1 and 2) out of white construction paper or card stock.
Draw an arc (or a hook) from the top of the folded heart shape down to the tip.
Cut along this arc. Unfold the shape.
Glue this shape at the back of the whale, close to the top edge.
Glue on a wiggle eye and draw the whale's mouth.
Finally, open your whale greeting card and write your greeting or message inside.
Contributor

FirstPalette.com
A free resource for fun and educational kids' crafts, the site features a step-by-step guide for each craft project and includes printable templates, art recipes, and environment-friendly tips for crafting.