Wearing O The Green Pin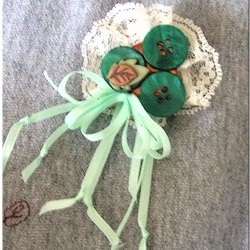 Everybody is Irish on St. Paddy's Day and here is the perfect way to add a touch of color for the day. This craft is easy for kids to create and makes a wonderful gift to present to Mom or Grandmother.
Supplies
3 green buttons
1 large button
Gathered lace
1 half yard of 1/8th in. light green ribbon
items for decoration
hot glue
pin back
Instructions
Glue the lace to the back of the large button.
Glue the three green buttons to the front of the large button.
Make the bow and glue to the bottom of the three green buttons, add the decoration to one of the buttons.
Glue on the pin back and it is done.
This craft is contributed by CabinAnnie
Contributor

Cabin Annie
Cabin Annie's is a home for conversation and fun; an exchange of recipes, (fun) handmade gifts for sale, free craft patterns, (fun) and tips on all phases of life.