Waste Not Pilgrim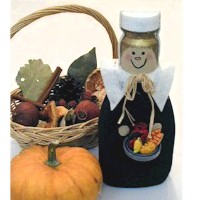 Waste Not and be thankful that you can recycle an empty condiment bottle into this whimsical Pilgrim.
Supplies
Empty Condiment Bottle with Lid
White Felt
Film Canister Lid
12" Strand of Raffia
Small Fruit and Vegetable Buttons
Tempera Paint in Black, Flesh, Pink, and Gold
Black Marker
Hot Glue Gun
Scissors
Instructions
Prep
Peel all labels from empty condiment bottle, wash and dry. You may need to soak the bottle in warm water to help lift the sticker "goo". Paint condiment bottle black up to neck. Paint the neck of the bottle with flesh colored paint for the face. You may need two coats of flesh to cover completely.
Collar
Using white felt, cut a rectangle large enough to overlap "shoulders" on both sides of the bottle when folded in half. Using the cap from the condiment bottle, trace a circle in the center of the felt rectangle; cut out. Cut a triangle out of the front to form collar (see diagram below). When black and flesh paint have dried completely, carefully slip collar over and down the neck of the bottle, resting it snugly on the bottle's shoulders. Glue the front and back of the collar in place to keep it stationary. Tie 12" piece of raffia into a drooping bowtie and glue to the front-center of the collar.
Face
Replace bottle's cap. If cap is not white, pain it with white tempera paint after putting back on the bottle. Let dry. Cut a 1/2" wide strip of white felt. Starting at one shoulder, glue in place as bonnet strap by running over the top of the cap and back down the other side. Trim to fit and glue in place. With black marker, dot on eyes and draw on a nose and the mouth. Dip paint brush into pink paint, dab several times onto newspaper or paper towel to remove most of the excess paint. Blot onto cheeks. Add a small touch of pink to her nose as well. Frame face with hair by using gold paint.
Harvest Platter
Fill center of the underside of a film canister lid with hot glue. Place various vegetable and fruit buttons into the "platter". The craft pictured used apples, carrots, corn and tomatoes. Using hot glue, adhere platter to front of bottle. Paint on round hands near platter with flesh colored paint.
About the Athor
Amanda Formaro is the entrepreneurial mother of four children. She and her husband live in southeastern Wisconsin
This  craft is reprinted courtesy of Amanda Formaro of CraftsByAmanda.com.
Contributor

Crafts By Amanda
Amanda Formaro is the crafty, entrepreneurial mother of four children. She loves to bake, cook and make crafts. She is the craft expert for FamilyCorner.com and Kaboose.com. You can see her crafty creations on http://craftsbyamanda.com" Amanda's Crafts by Amanda and her delicious recipes on http://www.amandascookin.com/ Amanda's Cookin'.