Wacky Wigs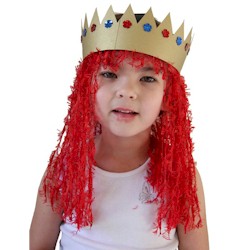 These Wacky Wigs are a great start to any little girl's costume for fantasy playtime, school play or Halloween.
Supplies
3cm wide card strips – long enough to fit around your head
Stapler
Scissors
PVA glue (double sided tape is easier but harder to find)
Red wool *
*You can substitute strips of newspaper, crepe paper or other materials for the hair.
Instructions
1. Wrap a piece of card strip around the head to find the right fit and staple.
2. Staple another strip from the front to the back going over the top of the head.
3. Staple another 2 strips to the same points but in between the first 2.
4. Paint a line of glue around the first strip.
5. Cut the streamers to the desired hair length and stick the pieces in a line around the strip of card.
6. Instead of covering the whole head, try making a hat or crown.
You can purchase a premade crown or you can make one of the crowns linked below:
Contributor

Jellyfish Jelly – Creative Kids
Jellyfishjelly is the work of Miya Maeda."My work is intended to be a simple guide for non-crafty, "creatively-challenged" parents.  The concept behind this site arose from what I perceived to be the near universal need for parents of small children to find novel and challenging activities to occupy what can sometimes seem like a very long day."