Valentine People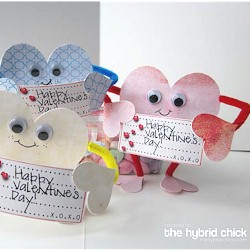 Valentine's Day is coming and now is the time to start making these special Valentine People cards for friends and family. Not all Valentines are flowery  and sweet. Some are funny and cute.
Supplies
Scrapbook Paper
Scissors
Pipe Cleaners
White Glue
Wiggle Eyes
Heart Punch (optional)
Pen
Instructions
Design two hearts (this will be the front and back of the body), print and cut.
Punch out 8 small hearts.Depending on your punch, they may need help with this step. Note: if you do not have a punch, you can cut out hearts freehand.
Cut a pipe cleaner into 4 equal parts and glue one end to the back of one heart. Note: I'm a bit impatient, so I also used my tape runner on the sides of the heart and placed a second heart on top of the heart with the pipe cleaner attached. This allowed me to continue working while it was "officially" drying.
Glue the eyes onto one of the big hearts.
Draw a little face on the heart with a pen or marker.
Glue the arms and legs to the backside of the second heart.   Run the tape runner around the edges.
Place the first heart on top of the second heart pressing around to create a tight seal.
Finally we bent the legs and arms so it can stand on it's own and we taped a little sign to it's hands.
Contributor

The Hybrid Chick
We are a team of hybrid artists from The Digichick Boutique, here to share with you our love of papercrafting. On our blog, you will find informative articles on cool little projects we've made combining digital scrapbooking supplies with paper, glue and scissors. We hope you find these hybrid creations to be as fun and addicting as we have and that you try them out for yourself!