Valentine Candy Hearts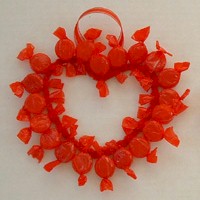 Eat your heart out with this delicious Valentine Candy Heart or better yet, give it to someone you love. Making something shows how much a family member or friend means to you.
Supplies
Hard candy
Red chenille wire
Floral stem wire
Narrow ribbon (red, pink, or white)
Pliers
Instructions
Take a piece of floral stem wire (16 or 18 ga) and bend it into a circle using pliers.
Shape the circle into a heart.
Take candies with red wrappers (cinnamon discs in this case) and using red chenille wire (pipe cleaner) join them to the outer contour of the heart.
Make a loop out of a piece of narrow red ribbon and attach it to the back top of the heart with a little bit of hot glue. Now you can hang it wherever you want.
You can use any candy you want. Your candy heart can be any size. It is all up to you. For example, you can make a strawberry candy heart out of strawberry flavored hard candy. Or you can use cinnamon discs and mint starlight candy.
Contributor

Incredible Edible Crafts
Hello, my name is Lana Glass and making candy bouquets is an important part of my life. Edible Crafts is a great way for parents to spend quality time with their children! Kids absolutely love making food craft projects and sure enjoy eating them! This is a fun way to get even your picky eaters to eat. Edible crafts are enjoyable and delicious projects.