Vacation Map Cubes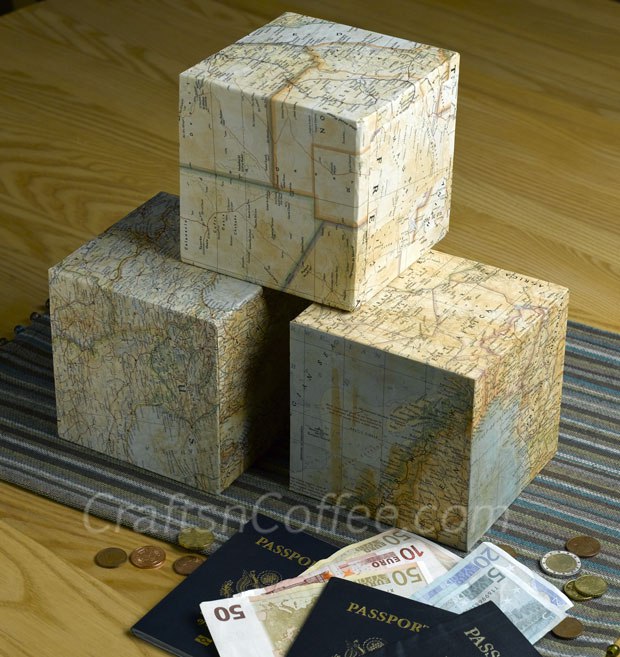 Keep your memories on display with these Vacation Map Cubes. Made with maps that we all used to keep handy in the glove compartment before the days of GPS. You can also use fold out pages from an old Atlas. Make it even more special by using at least one side to showcase a photo from your trip. This will make a great momento for the kids as they extol their friends with their adventures.
Supplies
STYROFOAM™ Brand Foam: 5" cube
Vintage map, or a fold-out map or old atlas*
Paper paste (Kathleen uses Yes! Paste)
Scissors
Ruler
Stiff paintbrush
Rubber brayer or roller (optional)
Instructions
1. Cut out two, 5-1/2" squares and one, 20-1/4" x 5" strip of map paper.
2. Spread a thin, even layer of paper glue onto the top of the 5" cube using the paintbrush.
3. Center and glue a 5-1/2" map square onto the top. Carefully clip the corners and smooth the edges down onto the sides. Repeat, covering the bottom of the cube. Optional: Use the rubber brayer to help smooth out the paper.
4. Test fit the paper strip around the cube, and crisply fold the corners. Spread a thin layer of adhesive on the sides of the cube of STYROFOAM Brand Foam, and wrap the paper strip around the cube. The ends will overlap by ¼".
Contributor

Styrofoam Brand Products
STYROFOAM™ brand from Dow is one of the most trusted and widely known brand names in the craft industry. From Christmas ornaments to wedding topiaries, they have helped shape your crafting memories for 60 years. Today, their high-performance foams are helping you make tomorrow's memories.