Toilet Paper Roll Crown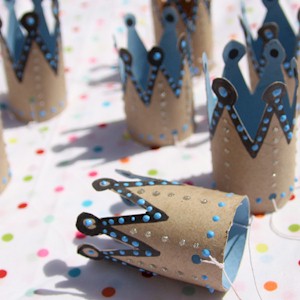 A Toilet Paper Roll Crown is the perfect favor for a special birthday party for a boy or girl. The toilet paper roll crown can be used as a crown or as a napkin holder or both. Put together a regal party with castles and crowns for all.
Supplies
Acrylic Paint
Paintbrushes
Toilet paper tubes
Black permanent marker or paint pen
Tulip fabric paint, blue and metallic silver
Hole punch
Elastic thread
Newspaper
Instructions
Cover your work area with newspaper to protect the surface.
Paint the inside of the tube and let dry.
With a pencil, draw the outline of the top of the crown on the tube, and cut out the silhouette with sharp scissors. Use our picture as a reference or create your own.
Using a black permanent marker, make a thick outline around the edge of the cut-out design. And add something subtle like black circles to the inside of the tube as well.
Using puff fabric paint, apply blue dots right over the black outline and as a border at the bottom of the crown. Add some vertical strips of metallic silver fabric puff paint dots and call it a day.
Keep your designs simple and clean on these little crowns for the cutest results. Set tubes aside to dry overnight or until thoroughly dry, and keep away from curious hands as the puff paint smears very easily.
Once dry, punch holes and tie on elastic threads long enough to go under the chins of guests both big and small.
Contributor

CreativeJewishMom.com
Visit me at CreativeJewishMom.com. on the exciting journey of giving greater meaning to the everyday through creativity. This blog is my way of sharing with you the joys of crafting, decorating, cooking, and gardening. I love simple ideas, recycling and quick transformations.