Tin Can Tropical Hut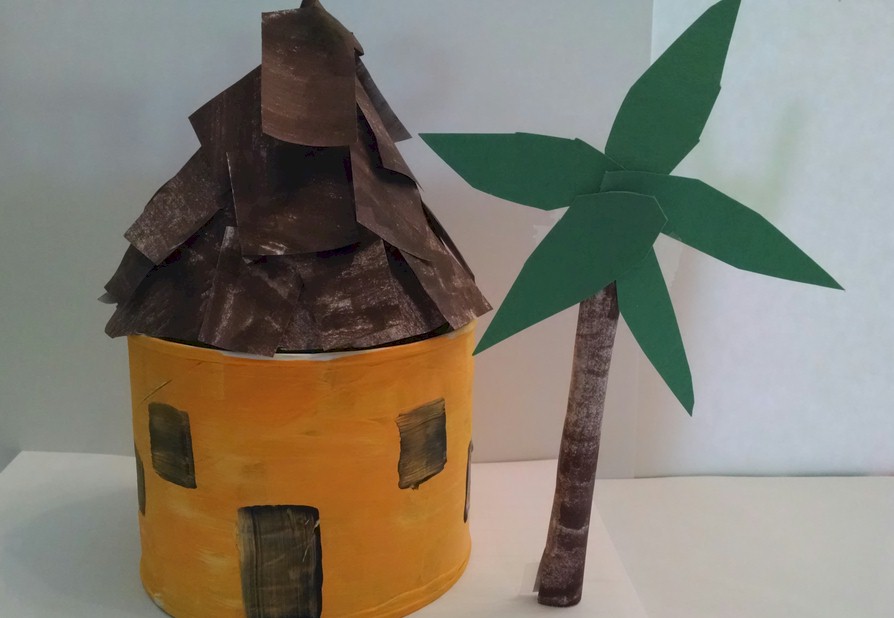 This Tin Can Tropical Hut was submitted  to our craft contest by 14 year old Lauren from Evansville, IN. Lauren enjoys running, painting, and spending time with her friends and family.
What does this inspire you to do?
Supplies
Empty can of peanuts (other cans will work)
Orange, white, and black paint
Glue or tape
Brown and green construction paper ( if you don't have construction paper you can just color a regular paper brown or green)
Scissors
Instructions
1. Paint the outside of the can of peanuts white. ( repeat this step after it is dry. Then paint it orange) when the outside is completed, paint some doors and windows on it with your black paint
2. Take your brown piece of paper and bend it into a cone shape. Tape the two sides together to keep that shape.
3. Cut strips of brown paper about an inch long and a half an inch wide
4. Glue or tape those strips of paper to the cone ( this will be the roof for your hut)
5. Tape or glue the roof to the top of the peanut can ( your hut is finished)
6. Optional tree- roll up a piece of brown paper and tape the outside to hold it together
7. Cut long curved shapes out of green paper
8. Tape or glue the leaves to the bottom of the tree
Contributor

FreeKidsCrafts Contest Winner
IT'S A WINNER! Take a look at what one of our talented viewers submitted to share with you. This craft was selected as one of this month's winners to received $50 in craft supplies. Click here to find out how you can enter your original creation for our judges consideration.