Tin Can Friends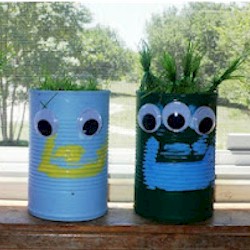 Supplies
Tin Cans
Acryllic Paints
Paint Brushes
Grass Seed
Dirt
Wiggle Eyes
Instructions
Start by painting your cans any color you want.
Now fill each can ¾ way full with dirt
Then put a LOT of grass seeds (more seeds make more hair to play with) in each can and fill cans with more dirt.
Now water your grass, and keep watering every day or every other day till the grass is long enough for you.
Glue your googly eyes to your cans.
Paint faces on each of your cans.
Now you can do your tin can friends hair. It is up to you if you want to brush it, cut it, or do a funky hairdo.
Whatever you decide to do with their hair remember you can change your mind later as the hair will keep on growing and you can keep on playing!
This craft is reprinted courtesy of we-made-that.com where you will find lots of great ideas for kid friendly fun.
Contributor

we-made-that.com
We are two moms who love doing activities and making things with our kids. We hope to inspire you and your kids with some of our projects!
Newsletter
Subscribe to our free newsletter to get creative crafts mailed to your inbox.