Tie Gift Bag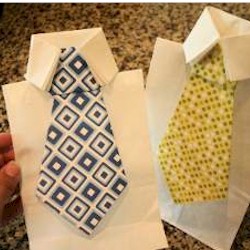 Wrapping Dad's present can be as much fun as selecting something he will enjoy to put put inside. He may not even want to open it this is so cute.
Supplies
White standard-sized paper lunch bags
Scissors
Scrapbooking paper
Clear tape and/or 3Dot adhesive
Instructions
Place your present inside the bag before you get started. Fold the top of the bag down (maybe 1 ½ inches) and make a nice crease.
Then, cut the bag at the bottom of the fold on each side,  leaving the strips of the bag that can be folded down to make a collar.
I just used some clear tape to secure the "shoulders" so that the gift won't come out. A 3D dot adhesive is nice for the collar wings, but they can be glued or taped as well.
I used scrapbooking paper (4×6 matting size) to make the ties, always taking advantage of the nice corner of the paper, and then eyeballing the folds I'd make on either side.
Folding the paper looks more like a real tie. I folded the edges of the leftover paper to make a strip to wrap around the base of the tie to look like the knot at the top.
Then, adhere the whole thing to the top of the bag, tucking the edges under the wings of the collar. If this is too complicated, just cut a basic tie shape out of scrapbook paper and tape it up there. It will be adorable either way.
This craft was designed by Kendra Halterman of My Insanity Blog and is reprinted courtesy of FaveCrafts.com.
Other Images
Click on an image to open it in a new window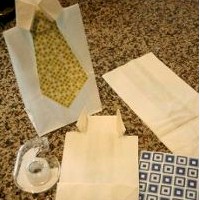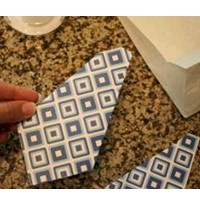 Contributor
FaveCrafts is owned by Prime Publishing LLC, an Internet Media Company that operates web site communities, e-mail newsletters and e-commerce stores in niche areas such as crafting, home décor, wellness, and cooking. See their craft projects at https://www.favecrafts.com/
Save
Save
Supplies
Instructions
Contributor

Sudbudz
Want to have some creative family time? Print out our SudBudz® Masks and get crafty with the kiddos! More than just a typical Fizzy Bath Ball, SudPrize® is a first ever line of skin-loving and natural bath products that make bath time Fun for Kids and Easy for Moms. A Free companion App, SudBudz® engages your children into an immersive world of special and unique characters called SudBudz®.