Tie Dyed Paper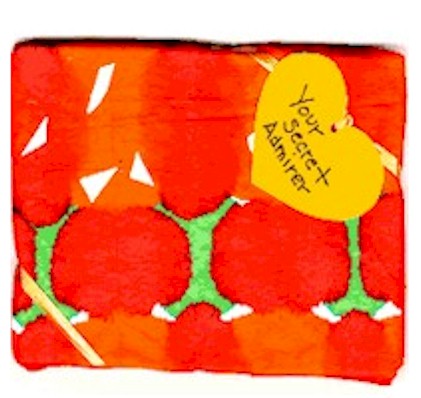 Use this simple technique to make Tie Dyed Paper and add pattern to white tissue paper and paper towels which can be used in collages and wrapping packages. Use dyed rice paper for covering books, boxes and even metal containers. You can even use it as a back ground for your own unique card.
Supplies
Absorbent paper--white tissue wrapping paper (20" x 30" sheets can be bought in packages), paper towels, paper doilies, paper bags or rice paper which is thick and sturdy but more expensive than the others.
Food coloring--a set of assorted colors will dye about 12 sheets of tissue paper
Containers to hold dyes--any plastic or glass container with low sides that will hold a 4"x3" paper packet
Paper towels for blotting wet paper packets
Optional tools: rubber gloves, tweezers or food tongs to handle dyed packets; brushes to touch up rough spots and add color to dull patterns; magic markers to draw designs on dull areas; stamps and stickers to add to the design and bull dog clips to put on folded patterns before dyeing to add texture to the pattern.
Instructions
How to Fold and Dye the Paper
There are several ways to fold and dip paper to create different patterns:

Free style--good for beginners
First experiment with paper towels which absorb dye quickly. The following techniques apply to any type of paper you use. Fold in quarters, triangles or randomly and dip corners into different colors.

Basic folds--how to do them
Fold the paper in half horizontally or vertically. Then fold it into accordion pleats until it forms one strip. Fold the pleated strip into squares, rectangles, or triangles. Alternatively, diagonal stripes may be made by folding either a square or rectangular paper in half and then folding accordion pleats diagonally. Next, take the folded, pleated strip and bend it into squares or rectangles.For more texture, clip bulldog clips along the folded edges before dipping paper packet into the dye. See the sample illustrations.
Dip any corner of the packet into one color of dye. When the color has spread as far as you want, take a paper towel and blot the area. Press out more water out by placing the sample in a clean paper towel, then put it between newspaper pieces on the floor and step on it. Dip the packet into the second color and let the new color seep into the first or allow white areas to remain between them. Repeat the pressing and blotting after each successive dip. Place the unfolded bundle on newspaper to dry. Be careful when handling wet paper as it tears easily, especially tissue paper. When paper is dry, unfold the packet. When the design is dry, remove any bulldog clips and, if necessary, press the paper with a cool iron.
Other Images
Click on an image to open it in a new window
Contributor

eco-artware
eco-artware.com was a new adventure for me - but it dovetailed nicely with the way I lived. I recycled and reused before and after it became chic. I'd worn plain and fancy Birkenstocks with vintage Armani suits through stints as a magazine illustrator, custom needlepoint designer, crafts teacher and manager of crafts shops. My grandmother's hand-made napkins with crocheted borders were the centerpiece of every holiday table I set. I'd used flea market finds as the raw materials for cards, craft projects and holiday decorations since I was a child.